Pythagorean Record: 88-74
2011 Recap
Surprise! The Arizona Diamondbacks are the most recent worst-to-first team in MLB and did it in good fashion, topping the 2010 World Series champion Giants. The division was very back and forth between San Francisco and Arizona for the first half of the season. Arizona played host to the best players in the league at the All Star Game, and then it was back to business. After trading the lead back and forth all summer, Arizona put it away for good on August 9th. The D-backs never trailed for the rest of the season.
The offense was led by young Justin Upton. Upton is considered to be a five tool player and one of the best in the league. He was projected to be Arizona's savior and leader when they return to the playoffs. Little did anybody know, that would be 2011. Upton led the team in homeruns (31), runs scored (105), RBI (88), average (.289), OBP (.369), and slugging (.529), as well as WAR (6.4). He also had a very good .240 ISO. Upton's production was nearly matched in many of these categories by catcher Miguel Montero. Montero had a solid season behind the plate, providing good defense to match his offensive output. OF Chris Young saw his power stroke return, as well as speed (he led the team with 22 stolen bases), but his average remained low. Ryan Roberts also had a low average, but knocked in a bunch of runs and had plenty of clutch hits down the stretch while providing defense at many different positions. Kelly Johnson started off well before being traded to Toronto for Aaron Hill and John McDonald at the trade deadline. Hill continued to see a falling average, but more power in Arizona. McDonald helped to fill in at shortstop with Willie Bloomquist for the oft-injured Stephen Drew. Rookie Paul Goldschmidt was called up mid-season and helped Upton and Yougn power the Diamondbacks to the division title in an impressive debut.
As for the pitching, Ian Kennedy showed that he was still the special pitcher he was viewed as coming up in New York. After a forgettable past few seasons, Kennedy came out strong, winning 21 games awith a 2.88 ERA, while striking out 8.03 batters per 9 innings. Daniel Hudson provided a nice complement to Kennedy, winning 16 games and walking 2.03 men per 9 innings. Josh Collmenter came up mid-season and showed how a knuckleball can thrive in the desert. Collmenter started off strong but faded towards the end of the season. Joe Saunders contributed little and the five spot was a rotation all season, as Zach Duke, Micah Owings, Jason Marquis, and Wade Miley all got starts in that spot. The bullpen saw a fantastic comeback from JJ Putz, who saved 45 games. David Hernandez saved 11 games and struck out 10 batters per 9 innings.
The Cinderella Diamondbacks made a rather easy run through the last two months, but came up short. They lost the NLDS to a very strong Milwaukee Brewers team, 3-2. Arizona was down 2-0 and came back to force the series to its maximum, but lost in extra innings on a walkoff hit by Nyjer Morgan.
Top Performers by WAR
Offseason Overview
Arizona made a few helpful additions this offseason. They signed Jason Kubel, who will take over for the sometimes offensively challenged Gerardo Parra in left field. Parra is a fantastic defender, winning the Gold Glove in 2011, but Kubel has better power numbers. The D-backs also traded one of their top pitching prospects, Jarrod Parker, along with OF Collin Cowgill and minor league pitcher Ryan Cook to Oakland for starter Trevor Cahill and reliever Craig Breslow. Cahill won 18 games in 2010, but struggled to match his stats in 2011. If he can get back to previous performance levels, he will team with Kennedy, Hudson, and Collmenter to provide a complement to Arizona's hard hitting offense. The Diamondbacks lost Marquis, Duke, and Owings but Cahill can make up for their total production on his own. Xavier Nady also left in free agency. Takashi Saito was added to stabalize a backend of the bullpen that began to fade down the stretch.
Notable Additions
Notable Losses
Projected Lineup
Hill, Upton, Montero, Young, Goldschmidt, and Kubel all can have a power stroke. Upton and Montero are the only consistent ones, while Goldschmidt has not proven himself yet. Hill and Young will need to become more consistent and raise their averages, while cutting down on their strikeout numbers, as will Roberts. Kubel will have to prove that he can keep up his offense while also playing defense, and not having the luxury of DH'ing. Parra will take his place when he needs days off, and showed signs of improvement hitting wise. Goldschmidt will need to prove that he can be another consistent hitter for this order, and keep his power numbers and average both up. Bloomquist will fill in until Drew returns, but that is questionable. Drew will begin the season on the DL and a return is not yet forseeable. If he can return and hit well, this lineup will hit a lot of home runs, but needs to work on the hit total.
Defensively, the Diamondbacks have three of the best outfielders there is. Parra won a Gold Glove in 2011, Young has received praise for his defensive, and Upton, who is the worst of the three, is still very good. The right side of the infield is questionable, with Bloomquist aging and Roberts being a natural outfielder. Hill can be good at times and Goldschmidt has not shown many defensive flaws. Montero is a very good defensive catcher.
Projected Rotation
Cahill needs to show Arizona that it was worth it for them to give up Parker for him. Parker could have been in this rotation this year, so Cahill will need to shake of 2011 and revert back to 2010 form. Kennedy and Hudson are both young so they will need to show that they can also do it again. Collmenter needs to give up less runs. Saunders has the ability to be a top of the rotation pitcher, but injuries and slow starts have slowed him down. If everybody is on, this is a top 10 rotation in the game.
Significant Relievers/Reserve Players
Roster Strengths
Power. Seven of the Arizona hitters have 20+ home run power and will hit plenty of them. But plenty of them also do not have a good enough ability to get on base for others to drive them in. The power numbers in Arizona will be high, but hit totals need to rise in order for RBI and runs scored to rise.
Roster Weaknesses
Average. Arizona didn't have a full time player in 2011 hit above .300. Five players in their lineup for 2012 hit under .250. They get a lot of at bats, but the hits have not been rolling. If this team can't stabilize their power and average, the offense will not be as productive as possible.
2012 Outlook
Luckily for the Diamondbacks, they play in a pretty easy division. This is ALWAYS the division to have a surprise team though. As far as anybody knows, Arizona will only have to compete with the Giants for the division title, but with 4 good teams in the NL East and 3 in the NL Central, it will be difficult for the second place team in the NL West to make the playoffs as the second Wild Card. Arizona has an offensive edge, so if everything clicks, they will pull out on top by a small margin.
Potential Breakout Player
Paul Goldschmidt really took off. He hit 18 home runs in rookie ball in 2009, 35 in High A in 2010, and 30 in only 103 AA games before being brought up to the big leagues in 2011. He hit for a high average at each stop, except for the majors. Facing his toughest opponents yet, Goldschmidt hit only .250. He will need to work on bringing his K rate back to his minor league levels, but he will still hit for power and team with Upton to be deadly.
Potential Bust
Chris Young is confusing. He brings great defense, very good power, and is one of the leaders on ths team. But he cannot seem to hit for a high average. He will need to raise his average and hit totals in order to see as many plate appearances as he has been.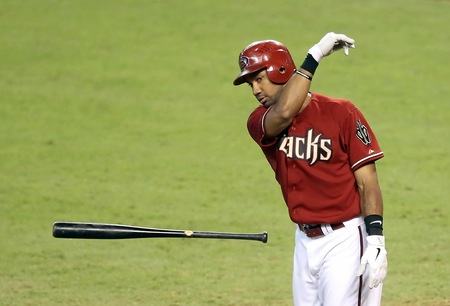 Prospects with Potential to Contribute
SPs Trevor Bauer and Tyler Skaggs: These two are the top prospects in Arizona's system and will form a lethal 1-2 punch at the front of the rotation soon. Each could see time in the majors at some point this season. Bauer has very good command of his every one of his five pitches and the ability to gather strikeouts like blueberries in a summer field. Bauer has a very high ceiling and will reach it very soon if he is not rushed. A late season or early 2013 debut seems likely. As for Skaggs, who came over with Saunders in the Dan Haren to LA deal, he possesses a very good K/BB ratio and great control. He has good mechanics and great peripherals, while succeeding at each of his minor league stops. His stuff isn't as good as Bauer's, but he will debut sooner and the two will be a deathly combination eventually.
Predictions
Final Thoughts
This will be a fun team to watch. Both the present and the future are bright for the Diamondbacks. A decade after their last World Series victory, Arizona made it back tot he playoffs and now they look to make it two in a row. The race in the NL West will be a tight one, so it will be a very entertaining summer in the desert.