The new Blue Jays logo was released this winter.
2011 Record: 81-81
Pythagorean Record: 79-83
Games out of first: 16
2011 Recap
Let me begin by saying that no matter how many games they won in 2011, and what their pythag. record was, the Jays are not a .500 team. They play about 40% of their schedule against three of the top-five teams in baseball, and as a result, get their production completely squashed. A statistic called Simple Rating System (SRS) accounts for competition, and by it, Toronto was an above-average team at 0.2. They would have placed second in the AL Central, third in the West, second in both the NL East and Central, and actually won the NL West. So, at all times, keep in mind that life simply isn't fair for the Blue Jays.
Many baseball fans were looking for the Jays to take a step forward in 2011, but they never really did. There were highs, and lows, and at the end of the day the team looked much like it has in past years: above average, but not good enough. Jose Bautista silenced doubters with an MVP season, Yunel Escobar made the Braves look stupid for trading him away so frivolously, and Brett Lawrie looked excellent in 43 games and looks like the face of the franchise f
or years to come. Staff ace Ricky Romero posted a sub-3 ERA and Brandon Morrow had excellent peripherals once again.
There were also pitfalls, though. The offense didn't walk nearly enough, despite the efforts of Lawrie, Edwin Encarnacion, Escobar and Bautista, and this really hampered the club's production. GM Alex Anthopoulos made the season interesting off the field, as he traded spare parts for talented youngster Colby Rasmus, then swapped the club's longest-tenured player, Aaron Hill, for Kelly Johnson, who had a good September and likely has a brighter future going forward. The club gave flashes of promise, but as mentioned earlier, it is simply impossible to compete in the East until the base is complete, and Anthopoulos is working tirelessly to get to that point.
Top Performers by WAR
1. Jose Bautista (8.5)
2. Yunel Escobar (4.3)
3. Brandon Morrow (3.4)
4. Ricky Romero (2.9)
5. Brett Lawrie (2.8)

Offseason Overview
Anthopoulos was busy this offseason shoring up one of the club's weakest points, the bullpen. He added White Sox closer Sergio Santos, and veteran short relievers Darren Oliver and Jason Frasor. He also signed former Reds Closer Fransisco Cordero, creating what could be a real strength at the back of the bullpen. The Jays also added uber-veteran Omar Vizquel, who will be 45 and who probably isn't a very good fielder anymore, but they will give him a shot. They also added another questionable player in Jeff Mathis. Mathis was responsible for taking time away from Mike Napoli and Hank Conger for years in Anaheim, despite being one of the worst full-time players in the majors. He will back up Arencibia, and hopefully give him that veteran presence people seem to think young catchers need.
Notable Additions
RP Sergio Santos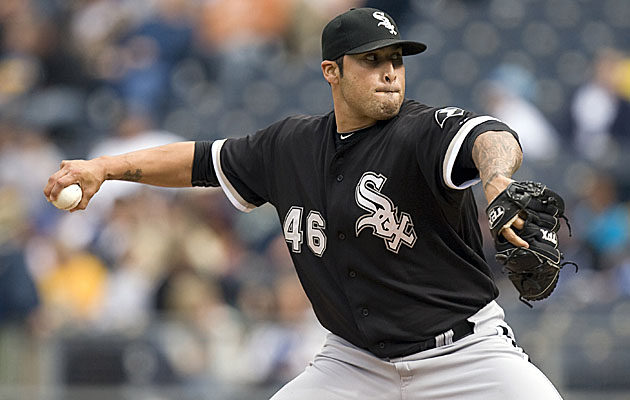 _C Jeff Mathis
IF Omar Vizquel
RP Darren Oliver
RP Jason Frasor
RP Fransisco Cordero
Notable Losses
RP Jon Rauch
_C Jose Molina
Projected Lineup
SS Yunel Escobar
LF Eric Thames
RF Jose Bautista
1B Adam Lind
DH Edwin Encarnacion
3B Brett Lawrie
CF Colby Rasmus
C JP Arencibia
2B Kelly Johnson
This is a very solid lineup, but it is contingent on a couple of things (read: players): Adam Lind and Colby Rasmus. In 2009 Lind hit 35 home runs and had a 141 OPS+, and has had two awful years since. In 2010, Rasmus had a 132 OPS+, at age 23. If these two can get back to this level of production, this team will be able to score with anybody, including New York and Boston. They likely won't (at least in Lind's case), but this is still a deep lineup that should be able to score at an average+ pace.
Defensively, the team will be about that level, roughly average. Lawrie-Escobar-Johnson make a tough infield, with Lind being a real weak link. Arencibia is not a terribly talented catcher, but he has a pretty good arm, and the raw tools to be an average defender. The outfield is lacking, as Rasmus and Thames are both average or worse at their positions. Bautista is probably an average right fielder, but again, there's not too much value to be had there.
Projected Rotation
Ricky Romero
Brandon Morrow
Brett Cecil
Henderson Alvarez
Dustin McGowen
This rotation is interesting, if not assuring. Romero-Morrow is a good 1-2 punch, and if Morrow can ever take the final step in his development (which is becoming more and more unlikely at age 27), he could become a monster. Brett Cecil is enormously unimpressive to me, but he'll get another shot and is still fairly young (25). Henderson Alvarez had an impressive debut, walking just 8 men in 10 starts. He will be just 22 this season, and the future looks bright for the control pitcher. McCowan is terribly interesting. He was a pretty good pitcher in the late aughts before missing nearly three years to virtually every throwing-arm injury possible. He threw 21 innings late in the season for Toronto, and, astoundingly, was throwing mid-90s like he used to. It will be interesting to see what the 30-year-old has left at this point, but he could make for quite a story.
There are some depth options as well, notably Kyle Drabek. The former top prospect will be 24 in 2012, so his clock is not yet run out, but he has yet to find real success at the major league level. Expect Toroto to start him at Triple-A again and try to get his stuff to play properly.
Significant Relievers/Reserve Players
RP Sergio Santos
RP Darren Oliver
RP Joel Cerrano
RP Fransisco Cordero
RP Jason Frasor
OF Travis Snider
IF Omar Vizquel
C Jeff Mathis
OF Rajai Davis
Roster Strengths
There is a lot of potential offensive output here. 1-9 the lineup has offensive threats. There is a lot of opportunity for failure: Thames and Lawrie will have to avoid the sophomore slump, Lind and Rasmus have serious consistency concerns, and Jose Bautista still has questions to answer. However, there is too much upside to not be excited about this lineup.
Roster Weaknesses
I'm not a huge fan of the rotation. Romero is a very good pitcher, and Alvarez is very exciting, but if Morrow never completes his development, for all of his great peripherals, he's still just an average pitcher. I've never been a fan of Cecil, and McGowan is the farthest thing from certainty that you're going to find in MLB. Beyond them, the depth options, while plentiful, are very fringey, not guys you can trust to get outs against the Rays, Red Sox and Yankees. Toronto would do well to keep Drabek in the minors as long as possible, as his development might be crucial to giving the Jays the final piece of a contender, a good rotation.
2012 Outlook
I think you can expect a very similar season to 2011. They are a good team that will be kept down due to great competition. There are plenty of young players that should make for an exciting season of flirting with contendership. Perhaps the biggest story for Toronto will be the new Wild Card format. With an extra Wild Card spot open, Toronto becomes an outside contender for the playoffs, which means that for the first time in a while, this is not a team where you have to watch the players, but can actually follow the team. There is more to look forward to, as well.
Keith Law recently ranked the Blue Jays farm system as #3 overall
(a marvel considering how poor it was just three years ago), and we should be seeing more and more of that help reaching the majors in the coming years.
Potential Breakout Player
Brett Lawrie had a huge rookie season, if it was short, and is definitely on everybody's radar, but 2012 will be a coming out party for him. If you look at his numbers, his HR/FB and his babip were a little bit inflated, but his LD% was way down. It is altogether reasonable that he repeat his 2011 rates (.293/.373/.580) over a full season. He has awesome hitters' tools. I'm not the only one predicting a big year out of him, either:
many sources
are predicting an OPS between .800 and .900.
Potential Bust
I don't want to say it: Jose Bautista. Joey Bats had a huge season that should have won him an MVP Award, hitting .302/.447/.608, leading the league in home runs, SLG and OPS. He had a monster season, and, don't get me wrong, I expect him to produce again in 2012, but compared to what he has done, and what people may expect out of him, I have some concerns, namely that his strikeouts and ground balls both continued to rise as the season went on. As a result, in the first half he hit 31 home runs with a 1.170 OPS. In the second half he hit 12 with a .896 OPS. His babip did decline in that period, but this is a concerning trend nonetheless. Bautista is kind of a one-trick pony when it comes to swinging the bat (start early, swing motherf&$#ing hard), so if pitchers are learning to exploit him, it could spell a serious impact on his production.
Top-Ten Prospects
with Potential to Contribute
#1 Travis d'Arnaud: a 23-year-old catcher has 'star' written all over him. In a full season at Double-A in 2011, d'Arnaud hit .311/.371/.542 while throwing out 27% of base stealers. He will likely spend most of this season testing himself at the awful ballpark in Triple-A Las Vegas, with the potential for a September callup, but if Arencibia gets hurt and the Jays don't feel like giving Mathis a ton of at-bats, don't be shocked to see d'Arnaud be the first guy they call.
#2 Anthony Gose: after a huge AFL season, Gose is back in the discussion as an elite prospect, and many call him a poor man's Mike Trout. He hit .253/.349/.415 playing over his head in Double-A at age 20 while playing a stellar center field and stealing 70 bases. He is still quite raw, and will likely spend this season at Triple-A, but don't be surprised to see him in September, or even earlier.
Predictions
Record: 85-77
Finish: 4th
MVP: Brett Lawrie (6.0)
Final Thoughts
I fully encourage anybody to follow the link to Baseball America and check out the Jays' farm system. It is loaded, both at the top and at the bottom. As young as some of their MLB talent is, there is so much more where that came from. The 2012 Blue Jays are a team that would probably compete in any other division, but one that will have to settle for being 'good' in the AL East. What is most exciting about the club is the organisation itself. The Rogers want to spend money. Paul Beeston is a creative president. Alex Anthopoulos is a genius. LaCava, Sartori, and Brown are some of the best talent evaluators and smartest people in baseball. John Ferrell is widely respected. They have the most feared hitter in the league. Brett Lawrie is a budding star. They have a good, young team, with loads of talent on the way. 2012 might not be 'their year', but if you want to be a fan and get on board before the bandwagoners, now might be a good time.