2011 Record:
86-76
Pythagorean Record:
80-82
Games out of first:
8
Top Performers by WAR (rWAR for hitters, fWAR for pitchers):
1. Pablo Sandoval, 6.1
2. Madison Bumgarner, 5.5
3. Matt Cain, 5.2
4. Tim Lincecum, 4.4
5. Ryan Vogelsong, 2.4
2011 Recap
If there is one word to describe the defending 2010 World Series Champion San Francisco Giants, it would be "injury." Brian Wilson and Cody Ross began the year on the DL. Soon after the season began Andres Torres, Barry Zito, Mark DeRosa, Pablo Sandoval, Darren Ford and Mike Fontenot had DL stints. But no injury was more costly than 2010 Rookie of the Year Buster Posey's, when on May 25th he was blocking home plate and Florida Marlins' player Scott Cousins collided into him. Posey would require surgery and be out for the rest of the season. A definite blow to their offense as Posey was the cleanup hitter. This incident would create much controversy during the season for a potential rule change that would protect catchers from such plays.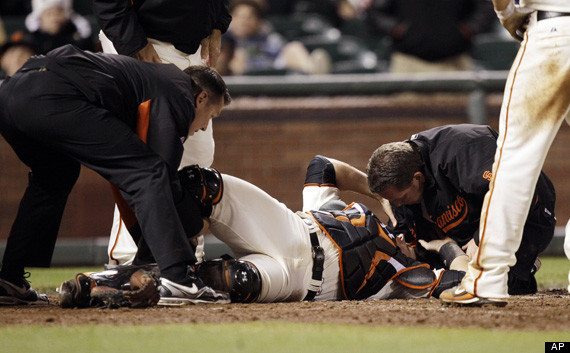 Injuries would also affect Brandon Belt, Freddy Sanchez, Jonathan Sanchez, Bill Hall, Pat Burrell and Miguel Tejada as the season continued. The Giants never really had all of their regulars playing all at the same time. Despite all of this, they found themselves in first place as the trade deadline neared thanks in large part to their pitching. Tim Lincecum and Matt Cain remained as one of the best 1-2 punches in the NL, but it was the emergence of sophomore Madison Bumgarner and a surprise effort by Ryan Vogelsong that rounded out a strong starting pitching staff. Bumgarner started 18 games in 2010 with a 3.00 ERA, 1.31 WHIP, 7.0 K/9, 3.66 FIP and kept it up over a full season in 2011 with a 3.21 ERA, 1.21 WHIP, 8.4 K/9, 2.67 FIP. Vogelsong had been playing in Japan from 2007-2009 after having little to no success in MLB before that. In 2010, he was pitching in the minors for the Angels and Phillies and then signed a minor league deal with the Giants for 2011. If it wasn't for all the injuries, he might not have gotten as much playing time as he did, but he impressed with a 2.71 ERA, 1.25 WHIP, 7.0 K/9, 3.67 FIP, good enough to make the NL All-Star Game.
Being in first place at the deadline means being buyers. The Giants traded their best trading chip in pitcher Zack Wheeler for Carlos Beltran. In a separate deal, they acquired infielder Orlando Cabrera. These moves were supposed to help with the offense as the Giants scored a league-leading worse 3.5 Runs/Game (in comeback fashion, Pablo Sandoval hit an impressive .315/.357/.552/.909 after a disappointing 2010 season). Almost as an initiation, Carlos Beltran would strain his hand and wrist and would miss a few weeks on the DL. When he came back, he hit a strong .323/.369/.551/.920 for the Giants, but it was too little too late as the Giants fell to 2nd place, 8 GB of the NL West and 4 GB of the Wild Card.
Offseason Overview
The Giants made two major trades during the off-season. They traded centerfielder Andres Torres and relief pitcher Ramon Ramirez to the Mets for centerfielder Angel Pagan. Then to make room to keep Vogelsong in the rotation, they traded Jonathan Sanchez and minor leaguer Ryan Verdugo to the Royals for outfielder Melky Cabrera. The Giants succeeded in getting younger (and hopefully healthier) in the outfield. Theriot was added as INF depth.
Notable Additions:
OF Melky Cabrera
OF Angel Pagan
INF Ryan Theriot
Notable Subtractions:
SP Jonathan Sanchez
OF Andres Torres
RP Ramon Ramirez
OF Carlos Beltran
OF Pat Burrell
OF Cody Ross
SS Orlando Cabrera
Projected Starting Lineup:
CF Angel Pagan
LF Melky Cabrera
3B Pablo Sandoval
C Buter Posey
1B Aubrey Huff
RF Nate Schierholtz
2B Freddy Sanchez
SS Brandon Crawford
Pitcher's Spot
For a team that's supposed to contend this year, there're some question marks with the lineup. Who bats 2nd? Freddy Sanchez is used to batting 2nd but manager Bruce Bochy said he might experiment with Melky Cabrera in the 2-hole, and it makes sense. Sanchez is getting older and declining while Cabrera is younger and just came off a breakout year.
Speaking of Cabrera, he's a question mark himself. In the five seasons prior, he averaged .267/.329/.380 with about 8 HR and 10 SB per year. All of a sudden, he hits .305/.339/.470 with 18 HR and 20 SB in 2011. That normally would scream "fluke." While it may seem that Cabrera has been around forever, some people may forget that he is only entering his age 27 season. There's nothing unusual with having a player's breakout year at the age of 26. His BABIP was a high .332 and there is reason to believe that it'll regress back to the .300 range. So, yes Cabrera's production will likely decrease a little from last year, but it may not crash back to his 2006-2010 numbers that most people are predicting. There's reason to believe that he naturally just became a better hitter.
After the 1-4 spots, there is nothing to get too excited about. Brandon Belt could be occupying an everyday job by the end of the season and there's hope that he can improve on his lackluster rookie campaign. However, there's talk that he may not even make the team out of Spring Training. Brandon Crawford is simply there just for his defense.
Projected Rotation:
RHP Tim Lincecum
RHP Matt Cain
LHP Madison Bumgarner
RHP Ryan Vogelsong
LHP Barry Zito
Barry Zito may be getting paid to be an ace, but he's nowhere near the best pitcher on this staff. Tim Lincecum, Matt Cain and Madison Bumgarner are as good of a trio as any in baseball. All could potentially be the ace on multiple teams across MLB. Vogelsong is very serviceable as a #4. Therefore, Zito just has to be healthy and contribute 190 innings and the Giants should have one of the best pitching staffs in all of baseball.
Key Bench/Bullpen:
1B/LF Brandon Belt
INF Mike Fontenot
INF Ryan Theriot
CL Brian Wilson
SU Sergio Romo
Roster Strength
Pitching. In 2011, the Giants compiled 17.6 fWAR from their starting pitching, 2nd only to the Phillies (who had an incredible 25.8 fWAR from their starters). The only difference between the 2012 and 2011 starting pitching is a (hopefully) healthy Barry Zito replacing Jonathan Sanchez. Everyone knows the success of Lincecum and Cain, but here are some numbers: over the last 3 years, The Freak has put up a line of 2.87 ERA, 1.17 WHIP, 9.8 K/9, 3.2 BB/9, 2.88 FIP, 17.3 fWAR and Matt Cain has put up a line of 2.97 ERA, 1.12 WHIP, 7.2 K/9, 2.7 BB/9, 3.48 FIP, 12.3 fWAR. Their fWAR are top 10 in the NL during that time. Only the Phillies (Halladay and Hamels) and Cardinals (Carpenter and Wainwright) also have 2 pitchers in the top 10 in the NL during that time. Both pitchers are still under 30, therefore they are still in their prime and should easily continue the trend for 2012. If that's not enough, Madison Bumgarner had a great first full-season, and only being 22, could even improve. That's a 1-2-3 that only the Phillies can challenge with Roy Halladay, Cliff Lee and Cole Hamels.
The pitching even extends to the bullpen. Brian Wilson was bothered by his elbow for most of 2011, but if he can go back to his 2009-2010 form, he'll be an elite closer once again. Sergio Romo has been one of the best setup men in all of baseball (2.38 ERA, 0.94 WHIP, 11.3 K/9, 2.09 FIP over the last 3 years). Jeremy Affeldt, Santiago Casilla and Javier Lopez are also strong bullpen arms.
Roster Weakness
Weak bottom of the batting order/depth. A healthy Pablo Sandoval and Buster Posey will form a good middle of the order. Angel Pagan is a serviceable lead-off hitter and will get on base and steal some bases. Melky Cabrera won't be as good as his 2011 season, but should be decent. Aubrey Huff got old and crashed and burned in 2011 and could likely be replaced by either Brandon Belt or Brett Pill by the end of the season. The batting order doesn't seem strong enough to have a defensive-only spot in Brandon Crawford. Unfortunately, the Giants don't have much in trading chips to help them out at the deadline if injuries strike again. So, they are going to have to rely on being healthy and Brandon Belt carrying his success from the minors to the majors (and actually taking playing time away from the fading Aubrey Huff).
2012 Outlook
It is remarkable that the Giants remained competitive for the majority of 2011 with all the injuries they had. They have pretty much the same team in 2012 (Torres and Ross are being replaced by the younger Pagan and Cabrera while Zito will replace Sanchez in the rotation). If they can remain healthy over the course of the season and everyone plays up to their potential, the Giants are the best team in the NL West. Sure, their offense isn't the strongest, but they were able to have a winning record with the worst Runs/Game in the NL in 2011. Now they have Buster Posey healthy again and hopefully Brandon Belt can make the transition to the majors. Their pitching is so strong that they don't have to score a ton of runs in order to win.
Potential Breakout Player
Madison Bumgarner. How does a guy who had as good of a year as Bumgarner had in 2011 become a breakout candidate for 2012? When he's only 22 years old and his peripherals suggest he had a better season than his ERA shows. He didn't have an unsustainable BABIP (.322) and his LOB% was league average (72.4%). Yet, his FIP (2.67) and xFIP (3.10) were lower than his ERA (3.21). That suggests that he may have been a little unlucky in 2011. How unlucky? Well one way to measure that is to take the difference between ERA and FIP. In the NL, Bumgarner was the 6th unluckiest pitcher with an E-F of 0.54. His FIP was 4th in the NL after Roy Halladay, Clayton Kershaw and Cliff Lee. That's good company. One concern is his overuse of sliders (32%). Pitchers who throw that many sliders usually have ended up on the DL, with how much stress it takes to throw the pitch. Given his age and talent, he could easily adjust.
Potential Bust
Ryan Vogelsong. He hasn't pitched in the majors since 2006 and all of a sudden he's an all-star pitcher with a sub-3.00 ERA? Something doesn't look right here. His LOB% (80.4%) was higher than average, meaning he was putting runners on base and stranding them at an above average rate. This usually evens out by the next year and as those runners score, it increases his ERA. His FIP (3.67) and xFIP (3.82) suggest that his ERA (2.71) should've been about a run higher than it was. However, there are some encouraging signs. His strikeout rate and walk rate are better than he's ever shown in the majors before and his FIP and xFIP are also better. He could still be a useful starter for the Giants but just not as good as his 2011 ERA suggests.
Potential Prospects that can Contribute in 2012
Starting pitcher Eric Surkamp. Surkamp made 6 starts in 2011, with a 5.74 ERA, 1.84 WHIP, 4.4 K/9, 4.68 FIP after pitching 2.02 ERA, 1.08 WHIP, 10.43 K/9, 2.37 FIP in 23 games at AA. Surkamp is likely to start the year in AAA, but should be the first pitcher recalled if injury hits that starting rotation. Surkamp has a below-average fastball with plus command and a "big looping curveball" as his out pitch. Scouts project him as nothing more than a 5th starter.
First baseman Brett Pill. Given how bad Aubrey Huff was last year, he should be a bench player or released altogether. However, the Giants have committed $10 million to him for 2012, therefore they are going to give him some time to see if he can bounce back. The Giants already announced that their OF is going to be Schierholtz, Pagan and Cabrera. That means there is no room for Brandon Belt to start, so he may start the year at AAA. What does all of this have to do with Brett Pill? Well, if Belt doesn't make the team, than Pill most surely will. Pill was impressive in his first tour of duty in the majors last year, hitting .300/.321/.560 in 15 games after hitting .312/.341/.530 in AAA.
Predictions
Projected Record:
90-72
Projected Finish:
2nd Place
Projected MVP:
Pablo Sandoval (6.0 WAR)
Final Thoughts
I see the Arizona Diamondbacks as the Giants biggest threat in the NL West, who improved themselves with SP Trevor Cahill. One nice thing for the Giants this year is the introduction of the 2nd Wild Card as they have an even greater chance of making the playoffs as one of the Wild Card winners. The thing that's preventing me from placing the Giants atop of the NL West over the D-Backs is the lack of trading chips if they need to upgrade at the deadline. It'll be hard for them to add a Carlos Beltran-like impact player this year. If they remain healthy and a little luck goes their way this year, I could easily see the Giants winning their division.