2011 Record:
72-90

Pythagorean Record:
70-92
Games out of first:
24
Top Performers by WAR (rWAR for hitters, fWAR for pitchers):
1. Andrew McCutchen, 5.5
2. Neil Walker, 2.5
3. Charlie Morton, 2.2
4. Paul Maholm, 2.1
5. Joel Hanrahan, 2.0
2011 Recap
It must be hard being a Pittsburgh Pirates fan over the last 20 years; however the Pirates gave some hope in 2011. The Pirates found themselves competing in mid-summer and were in first place as late as July 19th with a record of 49-46. That's the latest in the season they've been in first place since 1997. They were buyers at the trade deadline, trading for Ryan Ludwick and Derrek Lee. But it was only false hope as they finished the season going 21-46 since July 19th and suffered their 19th consecutive losing season.
Bright Spots
Andrew McCutchen, .259/.364/.456/.820 with 23 HR and 23 SB. McCutchen is one of the best centerfielders in the National League (probably 2nd only to Matt Kemp). At only 25 years old, he could get even better. ZiPS is projecting a line of .274/.361/.455/.816 with 19 HR and 28 SB for McCuthen in 2012.
Joel Hanrahan, 1.83 ERA, 2.18 FIP, 8.00 K/9, 2.10 BB/9, 1.05 WHIP, 40 saves. Hanrahan became one of the elite closers in 2011, even earning an all-star selection. Look for him to continue to be a top closer in 2012, although with a regression to ERA. ZiPS projects him to have a 3.17 ERA, 1.21 WHIP, 9.78 K/9, 3.03 BB/9 and a 122 ERA+ for 2012.
Bad Spots
While most of the Pirates' players regressed back to their career norms as the season progressed, one particular player is worth highlighting.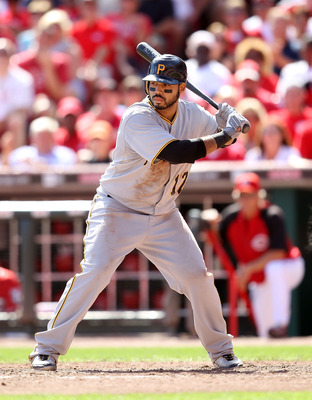 In 2010, Pedro Alvarez looked like he would be someone special for the future Pirates. In 95 games he hit .256/.326/.461/.788, 16 HR. At 23 years old, things looked bright for the young kid. However, in 2011, he took a big step back (some call it the dreaded "sophomore slump"). He only hit .191/.272/.289/.561, 4 HR in 74 ML games. He was suffering injuries last year to his quad, but that doesn't fully explain his significant drop in numbers. Alvarez is going to have to work hard at getting back to his 2010 form if he's going to be a part of the Pirates' future. ZiPS projects a line of .245/.323/.447 with 24 HR for Alvarez in 2012. (That might be a little too optimistic).
Offseason Overview
The Pirates are in a rebuilding year in 2012 (what else is new?). Players are being shifted, rookies are going to be played and stopgaps are going to fill in until new rookies are ready. Garrett Jones is moving full-time to 1B, Jose Tabata gets moved to RF and Alex Presley will play LF full time. Veterans Rod Barajas and Clint Barmes were bought in to play catcher and shortstop, respectively. Starting pitchers Erik Bedard and A.J. Burnett were acquired to "stabilize" the rotation.
Notable Additions:
SP A.J. Burnett
SP Erik Bedard
SS Clint Barmes
C Rod Barajas
3B Casey McGehee
OF Nate McLouth
Notable Subtractions:
C Ryan Doumit
OF Ryan Ludwick
1B Derrek Lee
SP Paul Maholm
SS Ronny Cedeno
3B Brandon Wood
Projected Starting Lineup:
RF Jose Tabata
LF Alex Presley
CF Andrew McCutchen
2B Neil Walker
1B Garrett Jones
3B Pedro Alvarez
SS Clint Barmes
C Rod Barajas
Pitcher's Spot
Projected Rotation:
RHP A.J. Burnett
LHP Erik Bedard
RHP James McDonald
RHP Jeff Karstens
RHP Charlie Morton/RHP Kevin Correia
Key Bench/Bullpen:
CL Joel Hanrahan
C Michael McKenry
3B/1B Casey McGehee
INF Chase d'Arnaud
INF Josh Harrson
OF Nate McLouth
2012 Outlook
There just isn't much hope for the Pirates this year as it has been for the last 19 years. Andrew McCutchen is a great player to build around with and the Pirates have some players like Presley, Walker, Tabata and Alvarez that could build a good foundation. However, they are surrounding those guys with the likes of Clint Barmes and Rod Barajas, mere castoffs that won't provide much more than using minor leaguers, expect for their veteran leadership. The offense that scored 3.77 runs/game last year only looks marginally better this year.
The rotation is probably even worse off than the offense. ZiPS only projects Erik Bedard to be above average, predicting an ERA+ of 104 (3.72 ERA), and he hasn't been able to stay healthy (although he did provide 24 starts to the Mariners and Red Sox last year). ZiPS only projects 77 1/3 IP from Bedard in 2012 (15 starts). The other two guaranteed spots in the rotation, McDonald and Burnett are projected from ZiPS to have ERAs of 4.27 and 5.31*, respectively. The other rotation candidates have Morton at 4.09 ERA, Karstens at 4.27 ERA and Correia at 5.00 ERA. Add it up, and that's an ERA of 4.59 for the six starters, which is worse than the 4.21 ERA they got last year from the rotation. There isn't much help from the minors either.
*It should be noted that that projection for Burnett was when he was with the Yankees. It most certainly will be lower now that he doesn't have to face the DH. Also, Burnett gives the Pirates one thing, innings. The Pirates haven't had anyone pitch 200 innings since 2009 (Zach Duke) and Burnett has averaged about 195 innings/year over the last 3 years. This is important as the Pirates won't be forced to bring up a prospect too soon to pitch those innings. Also, Burnett's xFIP was 3.86 in 2011, suggesting that it could be lower than 4.00 in 2012, given the right environment. The NL is a good place to start.
There isn't much going as far as backups and minor leaguers in case things go sour. Casey McGehee could overtake either 3B or 1B if Alvarez repeats last year or if Jones doesn't pan out at 1B although he's been very inconsistent. d'Arnaud could see some time at SS, but he hasn't shown to be better than Barmes. McLouth has also been very inconsistent in his ML career and Marte would just be a rookie. Barajas' backup, Michael McKenry, only hit .222/.276/.322/.598 last (although given his minor league line of .265/.357/.453, he should improve).
Brad Lincoln and Kyle McPherson are almost certainly going to see some starts in the rotation with the injury concerns of Bedard and inconsistency of the others. However, neither of them are anything special.
Potential Breakout Player
Alex Presley found himself as the starting leftfielder by the end of June last year (although he missed a month with a thumb injury). He responded by hitting .298/.339/.465/.804 with 4 HR in 52 games after hitting .333/.388/.485/.873 at AAA. The year before, he hit .320/.373/.494/.867, splitting time between AA and AAA. This year he's being handed the starting LF job and at 26 years old, he's primed to have a big breakout year. ZiPS projects a hitting line of .275/.324/.426/.750 with 12 HR this year – and could possibly be better.
Potential Bust
Rod Barajas. Rod Barajas has never started more than 125 games in his career and has started a shade under 100 games each of the last 2 years. He'll be 36 years old, so to expect more of a workload out of him in 2012 is a bit unrealistic. He has always been a below-average offensive player (he's never had 100+ wRC+). He was able to have a wRC+ in the 90s the last 2 years (92 wRC+ in 2010 and 94 wRC+ in 2-11). However, it looks like any year now the bottom is going to fall out and he'll contribute negative value as his defense will surely go south with age. ZiPS is projecting a line of .251/.291/.440/.731 with 15 HR. A bit optimistic.
Potential Prospects that can Contribute in 2012
Outfielder Starling Marte. Marte only played at AA last year, but hit, hit and hit some more. His line was .332/.370/.500 with 12 HR and 24 SB. He doesn't have much plate discipline as he doesn't draw a lot of walks and he may not hit for much power, however he has very good bat speed and contact ability to possibly overcome that. He should start the year in AAA, but should be one the first call-ups if injury strikes the OF.
Starting pitcher Kyle McPherson. McPherson pitched in high-A ball and AA last year, 2.96 ERA, 1.02 WHIP, 7.9 K/9 and 1.5 BB/9, 3.01 FIP. His ceiling probably isn't much more than a back-end starter, but his command is there as shown in his BB rate. He'll likely start the year at AAA, but should get some starts given the injury-prone Bedard and weak back-end pitching after him. ZiPS has him projected as pitching 132 2/3 IP with a 4.82 ERA, 1.38 WHIP, 6.24 K/9 and 2.71 BB/9. Innings seems a bit high.
Predictions
Projected Record:
75-87
Projected Finish:
4th Place
Projected MVP:
Andrew McCutchen (Around 5.5-6.0 WAR)
Final Thoughts
Some give hope for the Pirates this year as sluggers Prince Fielder and Albert Pujols are no longer in NL Central. Ryan Braun also would have to serve his suspension. However, the Pirates are likely to settle to below average, just as they did last year when it's all said and done. The talent level just isn't as high as it is in the top teams in the NL Central, mainly the Cardinals and Reds.
The minor league players to keep an eye on are starting pitchers Jameson Taillon, Gerrit Cole and outfielder Josh Bell. If the Pirates are able to hang on to Andrew McCutchen, the future looks promising with these upcoming players. However, if the Pirates let McCutchen go along with their other key players, then they are just going to continue to replace good young talent with other good young talent without surrounding them with good veteran talent – a formula that just doesn't work. It's a vicious cycle that's been going on for nearly 20 years.