2011 Record: 96-66
Pythagorean Record: 90-72
Won Division
2011 Recap
2011 was a great year in Milwaukee. GM Doug Melvin pulled no punches, acquiring starting pitchers
Zack Grienke
and
Shaun Marcum
to create one of the better rotations in baseball, making the Brewers an early favorite to take their division; which they did, posting the second-best SRS in the NL and winning the Central by six games over the Wild Card Cardinals (Wild Cardinals?).
The pitching, including co-ace
Yovani Gollardo
and a strong bullpen featuring young closer
John Axford
,
Cameron Loe
, a rejuvenated
LaTroy Hawkins
, and later erstwhile elite closer
Fransisco Rodriguez
, lived up to expectations, posting a 108 ERA+, aided in no small part by a rotation that made 155 of its starts, using just one other pitcher. The offense was solid as well, and while some players struggled, the heart of the order, consisting of
Prince Fielder
, MVP-winner
Ryan Braun
,
Rickie Weeks
, and
Corey Hart
, absolutely raked, combining for 117 home runs.
Nyjer Morgan
seems to have finally found a home, as his .357 OBP made him an effective leadoff option, and his
antics
made him a fan favorite. With this cast of characters, the Brew Crew made it to Game Six of the NLCS, losing to the eventual World Champion St. Louis Cardinals.
Top Performers by WAR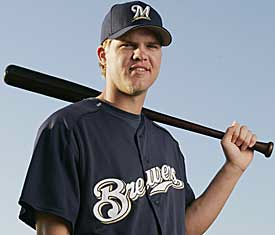 1. Ryan Braun (7.7)
2. Prince Fielder (5.2)
3. Corey Hart (4.0)
4. Zack Grienke (3.9)
5. Yovani Gallardo (3.1)
Offseason Overview
Not unlike the
last preview
I did, the Brewers' offseason was dominated by just a few names, one of them the Big Greasy himself, Prince Fielder. The Sultan of Sweat signed a mammoth 9-year, $214 MM deal with Detroit in the offseason, and the Brewers brought in veteran slugger
Aramis Ramirez
to replace some of his value. Ramirez will man third, previously held by
Casey
McGehee
, who, after a poor 2011, was shipped to Pittsburgh for middle reliever
Jose Veras
. They also signed
Alex Gonzalez
, a gifted (if aging) shortstop with a few home runs in his bat, and as long as he shows up to the games, he should be an upgrade over
Yuniesk
y Bentancourt
. Other than that, it will largely be the 2011 Brewers again, but there was one other major story this offseason.
On December 10, ESPN reported that
Braun had tested positive
for an October 1 PED test. According to one source, his testosterone levels were "insanely high, the highest ever for anyone who has ever taken a test, twice the level of the highest test ever taken". Braun immediately denied and filed an appeal, which, on February 23, he won on a technicality, avoiding a 50-game suspension. Apparently, his sample had broken the chain of possession, being left either on a desk or in a refrigerator for a weekend, instead of being shipped directly to the testers in Montreal. This breached protocol, voiding the sample, despite the handler, Dino Laurenzi Jr, claiming he did not tamper with the sample and SI's David Epstein claiming that the sample was not even opened. Braun will get to play a full season in 2012, and will play under a cloud of suspicion for the rest of his career. For what it's worth, he has maintained innocence throughout the process.
Notable Additions
3B Aramis Ramirez
RP Jose Veras
OF
Norichika Aoki
Notable Losses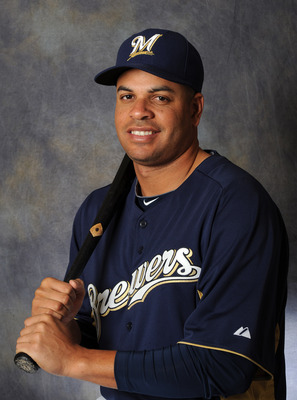 1B Prince Fielder
3B Casey McGehee
Projected Lineup
2B Rickie Weeks
CF Nyjer Morgan
LF Ryan Braun
3B Aramis Ramirez
RF Corey Hart
1B Matt Gamel
SS
Alex Gonzalez
_C
Jonathan Lucroy
1-5 this lineup is as dangerous as any in the NL. There is power and discipline all over the top of the order, and even Gamel has some upside. The 26-year-old hasn't found his stride in MLB, but he has a career .886 OPS in 1247 Triple-A at-bats. Lucroy isn't Mike Piazza, but I like him as an offensive catcher just fine. I don't think this is an 850-run offense, but this team should have no problem putting up crooked numbers, and making no deficit safe.
Defensively, the squad is below average. The outfield is pretty good, especially when
Carlos Gomez
is in the lineup. The infield should be an adventure, as Gonzalez is probably the only plus defender of the four -- assuming he doesn't start showing his age (he's 35). Neither Lucroy or his backup,
George Kottaras
, are particularly adept behind the plate.
Projected Rotation
Yovani Gallardo
Zack Grienke
Shaun Marcum
Randy Wolf
Chris Narveson
Except for Philadelphia, it is hard to find a better 1-2-3 than Gallardo-Grienke-Marcum, who are all coming off of strong 2011 seasons. Randy Wolf is a veteran lefty who has averaged 34 starts and 208 innings of league-average ball over the last four years. He's one of the game's true innings-eaters. Narveson is a clear weak-point, but as a number 5 starter, Milwaukee will probably be thrilled to get starts and something resembling league-average pitching. Narveson in particular should be looking over his shoulder for top-prospect
Wily Peralta
, who is just looking for an opportunity.
Notable Reserve Players
CP John Axford
RP Kameron Loe
RP
Fransisco Rodriguez
OF Carlos Gomez
_C George Kottaras
OF
Norichika Aoki
IF
Taylor Green
John Axford, the fighting pride of Simcoe, Ontario, is a member of an outstanding young class of relief pitchers in the league right now, along with Craig Kimbrel in Atlanta and Drew Storen in Washington. He had a great 2011 and even drew MVP votes. Kameron Loe, after years as a middling starter/swingman with Texas, has finally found a home in the bullpen, serving as a reliable middle-late reliever. Rodriguez is a couple years removed from being viewed as an elite closer, but that doesn't mean he isn't still very good: over the last two years he has a 159 ERA+ with a 10.2 K/9, and he closed off 2011 with a 1.86 ERA during his time with Milwaukee. People keep talking about him slowing down, but K-Rod just turned 30 in January. He'll be looking for a nice, quiet year of dominating hitters and staying out of headlines, and will hopefully field offers for a closing job next winter.
Gomez has never found whatever talent made him worth trading for Johan Santana, but he might be one of the best defensive outfielders in the league. I've always been a Kottaras fan (Boston and Canada connect, yo), and he is a pretty good offensive catcher who has been making strides defensively. Last fall the Brewers won the rights to Norichika Aoki with
a bid of $2.5 MM to the Tokyo Yakult Swallows
. Aoki, who I
detailed and ran conversions on
in November, is billed as 'the best pure hitter out of Japan since Ichiro', but he looks more like a useful fourth outfielder in the MLB. Green (another Canadian) was looking like a career minor leaguer before a huge 2011 in which he hit .336/.413/.583 in 120 games at Triple-A Nashville. It will be hard for him to prove himself as a bench player, but it should be interesting to see how much of that was a fluke.
Roster Strengths
I like the depth here. I count five potential starting outfielders, and six potential MLB starting pitchers. I think there is length in the bullpen, and strength in their bench. They are pretty well-rounded, with a powerful top of the lineup.
Roster Weaknesses
Lineup depth is the only knock I can find against the Brewers. Hopefully, the top of the order can score enough, and they should, but on nights where Braun and company don't hit, Gamel, Lucroy and Gonzalez will have a tough time stepping up.
2012 Outlook
I came into this article expecting to write about why the Brewers should take a step back in 2012. 'Oh, they lost Fielder, Aramis Ramirez is washed up, etc.' I was surprised to find, however, that this is not a bad-looking team. There is no reason that this team shouldn't compete to the wire in one of the game's weaker divisions. They have a farm that Keith Law
ranked 23rd
, featuring a couple of players that could help out in 2012. There isn't a ton of help on the way, but this is basically the 2011 club; and they did alright.
Potential Breakout Player
I'll go with Zack Grienke. I know, he's already been to the mountaintop, but a lot of people don't realize that he's never left, and that's why he'll raise some eyebrows this year. For the last two years his ERA has been about league average, and some people (weasel words) are already talking about his 2009 being a fluke. However, his peripherals have been very strong during this time, and in fact in 2011 he posted an xFIP of 2.56 and a SIERA of 2.66: Cy Young-caliber rates. He is only now coming into his prime at age 28. If he can get his end-result numbers to normalize in 2012, people should realize that he is still one of the elite pitchers in the league.
Potential Bust
'braun, cause he's off the juice lol'. No, in all seriousness, I trust Braun to go back to whatever system got him through all of the testing in the last six years. He'll be fine.
Top-Ten Prospects
with Potential to Contribute
#1 Wily Peralta: I mentioned Peralta earlier, and he should get some starts with Milwaukee this summer. Peralta, the #56 prospect in baseball this year (by BA), has a mid-90s fastball with some run, and a plus slider. He has a career 8.6 K/9 in the minors, but also has struggled with his command. He could probably contribute as a starter, but I can also see him dominating in relief.
#6
Logan Schafer
: Schafer is a pretty good center fielder who has hit at every level (career .301/.363/.427 MiL hitter), including a .922 OPS at Triple-A in 2011. He's 25, so the time for him to break in is now. He's pretty far down the depth chart with how many outfielders Milwaukee has, but he should be the first guy they call if one of them goes down.
#8 Tyler Green
Predictions
Record: 92-70
Finish: 1st, lose in NLDS
MVP: Ryan Braun (6.5)
Final Thoughts
The NL Central is in the bottom-three of the six divisions, so the Brewers have a chance here, even though the Cardinals are getting Wainwright back and Cincinnati is clearly going for it. Milwaukee, for my money, is still the best team in the division, but they will have their share of competition. The Brewers have drawn a lot of flak in the last year or so (after the Braun extension, one friend exclaimed "baseball in Milwaukee just died"), but you can't argue with success. Owner Mark Attanasio is showing a real commitment to winning and to fans of Wisconsin baseball, and despite the horrible, awful, almost illegal things Doug Melvin has done to his farm system, he puts a competitive team on the field -- and, to be honest, they had a good 2011 draft, and will have a bunch of compensation picks in the next two years. If they play their cards right, their farm could be stacked within 18 months. The gravy train will probably need to refuel at some point, but 2012, at least, should be a good year for the Crew.